Log Homes: Construction, Kits and Schools
Log homes
are regaining popularity as primary residences. With the advent of
log home building kits
, many
owner builders
are taking the plunge and managing the
construction
of their own
log cabin
. These
cabins
can be the small cottage type all the way to full blown mansions. Outside of the exterior build, most of
log building construction
is similar or identical to standard
stick built construction
.
Log Home Kits for Owner Builders
A number of manufacturers will sell a complete package of precut logs, notched and ready for construction. As with panelized kit homes and SIP homes, these units are put together in a factory and very precise. Don't be fooled, however, you still need to know a little bit about log construction or have access to a contractor that can stand up your walls.
Log Cabin Plans
The
owner builder
can also purchase
log cabin plans
on the internet. Most plans sites offer log cabin plans, including those featured on our
home design page
. Most
kit providers
include plans and have a variety to choose from. There are also some log cabin plans companies that offer
stock blueprints
as well as custom plans upon request.
For more information on floorplans, including log homes, visit our home design page.
Log Siding
If the owner builder would rather the "look" of a log cabin, but better energy efficiency, log siding is an option. Most log siding works just like lap siding. There is normally a lip and the logs slide into place. There are some log siding companies that offer a meatier log, actually splitting a full log, stick framing the structure and stacking one half on the exterior and one half on the interior. It makes for a very authentic log home with energy efficiency of a fiberglass or blown cellulose wall cavity.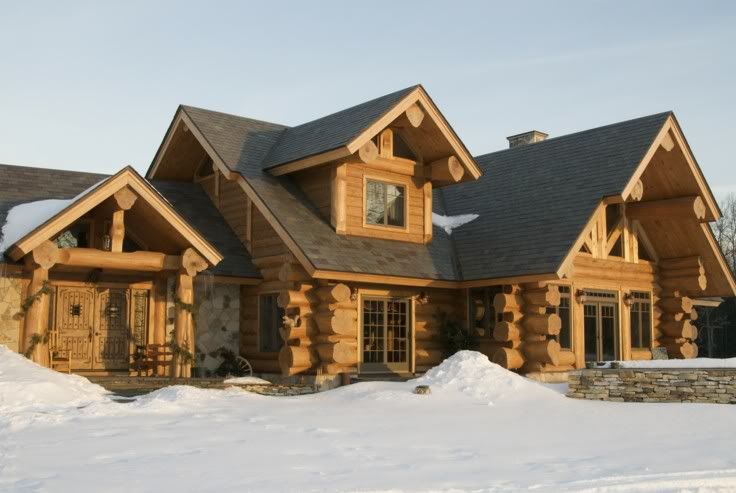 Log Building Schools for Owner Builders
The big question for the owner builder is, " How involved do I want to be?" There are log building schools that will instruct the owner builder in every aspect of log construction. They may last 2 - 10 weeks. There are also schools, classes and seminars that cater to the owner builder as a construction manager, something we encourage at OwnerBuilderOnline.com. Many owner builders prefer the satisfaction of getting their hands dirty. It is important if that route is taken to be educated and get some hands on experience. I would suggest one of the longer, more intensive courses. It would definitely be an adventure.
Just remember there are significant costs involved. Most schools require that you purchase your own tools and you will most likely have to get lodging and food for the 2-10 weeks you are at school . Tuition, I have found, is not unreasonable. It is the other costs that can take a toll.
Of course, we advocate managing the process. In that spirit, there are some schools that focus on applying that principle to their log building classes. You can normally finish a course like this in 3-5 days and get the necessary information to jumpstart your log cabin construction.


LOG HOME LINKS